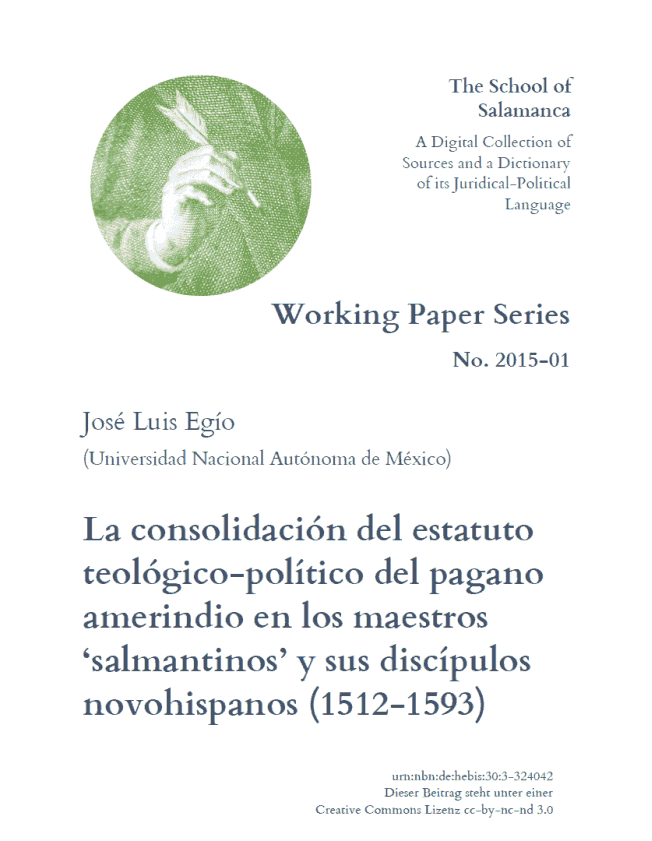 José Luis Egío:

La consolidación del estatuto teológico-político del pagano amerindio en los maestros 'salmantinos' y sus discípulos novohispanos (1512-1593)

, Salamanca WP No. 2015-01.
Abstract
This paper presents a reconstruction of the debate about the theologico-political condition of American Indians in 16th century. It focus on one single element of the general and complex controversy: the opinions about the paganism of the peoples 'discovered' in America and Asia. After analyzing the condemnations of Indian "idolatries" written by chroniclers such as López de Gómara or Fernández de Oviedo, it summarises the arguments that were elaborated by important teachers of the University of Salamanca (De Paz, Vitoria, Soto) to reject the perverse confused way in which the theological dilemmas arisen from the discovery of new pagan peoples were discussed. The paper underlines the importance of the role played by Salamanca's theologians in a broader process of conceptualization of the "innocent" nature of Native Americans "idolatries" in which missionary theologians such as Las Casas or Zumárraga (with other methods and arguments) also took part. The final chapters of the article are dedicated to study the consolidation of Salamanca's arguments in the increasing debate about evangelization and Spanish domination over the Indies. Two leading figures of New Spain are recalled: Alonso de la Veracruz and Domingo de Salazar. Under the influence of Vitoria and Soto, their teachers at the University of Salamanca, Veracruz and Salazar adapted received ideas to the missionary contexts of America and Asia.
Keywords
Alonso de la Veracruz American Indians Chroniclers Domingo de Salazar Domingo de Soto Evangelisation Fernández de Oviedo Francisco de Vitoria López de Gómara Matías de Paz Paganism